Best Cabinet Bed Selection
Explore the best selection of cabinet beds and wall beds!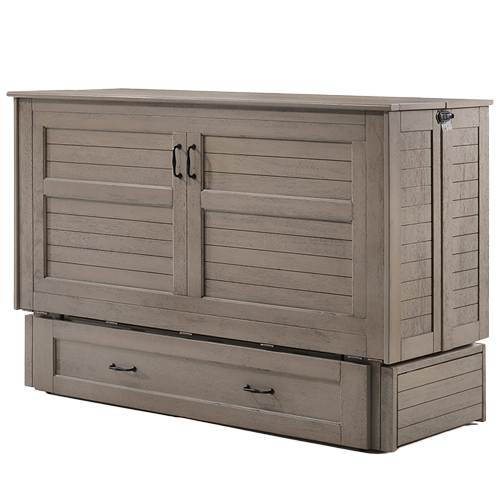 Cabinet Murphy Bed helps customers to find and purchase the right bed. We want to help simplify the process! Our writers have worked with cabinet beds for a very long time. Our goal is to provide the most information so there are no surprises.
A lot of time, effort, and research goes into our website and articles. It is important to put the research in to ensure you are pleased with your cabinet bed for years to come. A good place to start your research is our frequently asked cabinet bed questions article.
Why Buy a Murphy Bed Cabinet?
Cabinet beds are a relatively new product. They were first introduced in the late 1900s but did not become popular until the last few years. Thousands of people are buying cabinet beds every month and they are starting to get the recognition that, we believe, they deserve. But what makes cabinet beds so unique and popular?
The main reason people buy a cabinet bed is because of their space-saving advantage. It gives you a chance to take a crowded room back. If you want to turn a room into an office or a home gym, cabinet beds will give you that ability. A murphy bed cabinet sits up against the wall and they do not take up much space when closed.
Keep Control of Your Room
Traditional murphy beds were popular for the longest time, mainly because they were the only option to provide an additional place to sleep for small apartments and houses. However, cabinet beds give you the best of both worlds. They give you or your guests a place to sleep, while not taking over an entire room.
A traditional murphy bed completely changes the look and feel of a room. If you put the murphy bed in an office, it looks more like a bedroom than an office. In contrast, a cabinet bed is a lot more subtle. Many guests will not even know what it is until you show them.
Cabinet Beds are Easy to Use
Cabinet beds open and close within 30-45 seconds. It may take you a couple of minutes at first until you get the hang of it, but after that, it is a super easy process. Instructional videos are located throughout our website to show customers how the various beds are opened and closed.
Easy to Move Anywhere in the Room
Why limit your room set up? Unlike a traditional murphy bed, cabinet beds don't have to be anchored to the wall. This means you will have the freedom to move a cabinet bed when you decide to rearrange or repurpose your room. With two adults, you can easily move a cabinet bed anywhere!

Our writers and staff work with each manufacturer that we offer. We specialize in Cabinet Beds!

Any questions you may have, we can answer. We offer top notch information so you will feel comfortable when purchasing.

Our quick and easy checkout is backed by PayPal. We use the latest and greatest payment processing available.
We review and sell all of the top name Cabinet Murphy Bed Brands on our site. We have comparisons and breakdowns of each manufacturer so that you can choose the model that best fits your home or apartment. Below, we have a brief introduction to each of the different manufactures that are currently offer.
Like many other great American business success stories, Arason started in a basement. Jane, the owner of Arason, designed the original cabinet bed prototype with the help of her husband in 2002. The original model, named the FU-Chest, is no longer available. They have refined and perfected their original design to the models they now offer today.
Arason now features five different styles of beds with a variety of finishes. Unlike many other cabinet bed manufacturers, Arason focuses solely on their cabinet bed line and does not sell any other furniture lines.
They have two warehouses located in the United States, one in Maryland and the other in California. East coast orders will typically ship out of their Maryland warehouse, while west coast orders will ship from California (depending on stock availability). By having multiple warehouses, Arason's Cabinet Beds ship to their products to their customers faster.
Atlantic Furniture Murphy Beds
Atlantic knows a thing or two about producing quality furniture. They have been in the furniture business for over 30 years! All of their products are solid hardwood to ensure the quality of their beds is top-notch. Their five-step finishing process that ensures the quality of their product. Before shipping to the customer, each product is thoroughly inspected.
Atlantic offers several product lines. Atlantic Murphy Beds are a relatively new addition to the products that they offer. They offers a handful of unique styles and finishes. They are one of the few companies to offer a twin size murphy bed cabinet.
Atlantic is headquartered in Deerfield, Massachusetts. Most online purchases will ship from their Massachusetts warehouse directly to your doorstep. Atlantic does not call their product line cabinet beds. Instead, they call them a murphy bed chest. While the name may be different, the product acts as a cabinet bed.
Bestar began in 1948 in Sainte-Martine de Courcelles (Quebec, Canada). They have a long history of designing and manufacturing high-quality furniture. Despite Bestar manufacturing their wall beds in Canada, they ship for free anywhere in the United States. They call their products murphy beds. In our opinion, their product line is a hybrid between cabinet beds and murphy wall beds.
Bestar Wall Beds are similar to a murphy bed in that the bed is pushed upwards to lock into the wall. The bed also needs to be mounted to a wall, similar to a murphy bed. However, the bed is hidden within a cabinet when not in use. This gives it the quality look of a cabinet bed with the benefits of a murphy bed.
EMurphyBed is the new kid on the block. The company was started in 2017 in Jersey City, New Jersey. EMurphyBed's founder, Jason Renolds, recognized the need for functional furniture when he visited friends out of state. The lack of options available in the cabinet bed market frustrated him, and thus, he set out to change that. Since its inception in 2017, EMurphyBed has released multiple different product lines including the Daisy Delight Murphy Bed and the Paradiseo.
Night & Day Furniture Cabinet Beds
Night and Day has been manufacturing high-quality furniture for decades. They offer a range of other products including beds, bunk beds, futons, and more. Night & Day has been around for a long time, however, they did not add their cabinet bed line until the early 2010s. The first cabinet bed they offered was their Clover collection, available in three colors (cherry, dark chocolate, and white). Their cabinet beds quickly became a huge hit amongst customers looking for an alternative to big, bulky murphy beds. Since then, Night & Day has expanded their cabinet beds to include six different collections and a variety of different finishes.
Night & Day takes pride in the quality of their products. They ensure high-quality products by using top-of-the-line rubberwood to build their cabinet beds, while using no particle board. They feel so confident in the quality and durability of their products that Night & Day Cabinet Bed lineup offers a 10-year limited warranty. Not only does Night & Day believe in quality products, but they also believe in customer satisfaction.
As their business has grown they have increased their number of warehouses throughout the country to three. Their headquarters are in Vancouver, Washington, however, they also have warehouses in California and North Carolina. This allows Night & Day to get their customers' orders delivered quickly.
Top Collections of Cabinet Beds & Murphy Beds
Since its introduction in 2017, Arason's Brussels collection has become one of Arason's most popular cabinet beds. Brussels beds use a combination of circles that gives them a unique design. The collection features an extra-large storage drawer, an easy to assemble cabinet, and a premium memory foam mattress. There are three different collections available including Ash, Charcoal, and White. The Brussels Charcoal has been incredibly popular, especially for modern-style homes.
The Clover Murphy Cabinet Bed collection marked the beginning of Night & Day's path of manufacturing cabinet beds. They introduced their Clover collection over 10 years ago and they have been a hit ever since! As a result of the Clover collection's success, Night & Day expanded to offer six different collections, all having their very own unique style.
Night & Day created the Murphy Cube Cabinet Bed as a less expensive version of their Clover model. They redesigned the bed without storage drawers and a different opening/closing system. This allowed Night & Day to offer the bed at a much lower price point, giving customers a cheaper model to choose from. The Cube has seen some minor upgrades in the past couple of years. Over time, Night & Day has made the assembly of the Cube even easier.
Introduced by EMurphyBed in 2017, the Daily Delight collection features a rather simplistic design that allows it to blend in with the rest of the room. The collection offers three different finishes. You can purchase the bed in cherry, java, or white. Initially, the Daily Delight Murphy Bed collection was only offered in the standard queen size, however, recently EMurphyBed added a twin XL size option—a great option for single sleepers.
The Daisy Murphy Cabinet Bed collection featured only the Buttercream finish for the longest time. However, Night & Day recently introduced a Black Walnut finish into the collection in 2019. While the two finishes are different and unique, the design of the bed is the same. The Daisy collection features vertical slatted boards that make it unique from any other cabinet bed available.
Shortly after its introduction, the Essex collection quickly became Arason's most popular set of beds.  The collection features eight boxes with the shape of an X in the middle of each box. While the black and white finishes of the Essex collection are popular beds, the Essex Ash is by far Arason's most popular model.
The Paradiseo collection was recently introduced to the market by EMurphyBed. Each bed in the collection appears as four cabinets and two drawers. It comes in two beautiful finishes including tobacco and cherry. The bed is equipped with fairly large storage drawers that will allow you to store sheets and pillows. Additionally, the bed also has a USB module which allows for the bed to charge phones or even function as a TV stand.
The Poppy Murphy Cabinet Bed is a popular favorite for customers looking for a cabinet bed for their beach and mountain homes. The bed comes in four unique models including the Blizzard, Brushed Driftwood, Skye, and White Bark. The Blizzard, Skye, and White Bark each have a whitewashed finish.
Night & Day's Sagebrush collection has a simplistic design that features four silver handles. The handles near the top of the bed are just for show, while the handles near the bottom open up the large storage drawers. Night & Day introduced the Sagebrush collection to offer a more modern alternative to their already popular Clover collection.
Our top Murphy Bed Articles
Murphy beds are perfect for saving space but still there might be a need to save more space. Fortunately, murphy bed manufacturers have developed some great options that combine a murphy bed with a desk. This article outlines the five best murphy bed with desk options on the market. Now you can easily make a room into both a guest room and a working area! With working from home becoming a lot more popular, the need for more space is more important than ever.
Can't decide between fitting a bed or a couch into your tight space? In 2023, you don't have to! Several murphy bed with couch options are now available that 
easily transform from a bed into a desk. This article outlines three of the most popular murphy bed with couch options for 2023 and their top features. If you're in the market for a murphy bed with couch, be sure to read this helpful shopping guide before you make a purchase. Murphy beds with couches are perfect for basements, offices, spare bedrooms, studio apartments, vacation homes, and more!
Love IKEA Furniture? You're not alone! IKEA is known globally for its stylish and affordable household furniture. Thinking you'll buy an IKEA Murphy Bed? If so, you'll want to read this article first. IKEA Murphy Beds are not easy to find as you'd think. Due to the high-quality mechanisms and hardware needed to construct a murphy bed, IKEA does not offer murphy beds. Instead, browse this article to learn the best murphy bed and cabinet murphy bed alternatives to an IKEA Murphy Bed.