IKEA is known globally for its modern and innovative furniture designs, available at affordable prices. In 2023, the minimalist trend continues to grow as people have gained a new interest in multipurpose furniture. If you're in the market for a murphy bed for a small space, chances are the IKEA brand may have come to mind.
While IKEA may have been your go-to for home furnishings in the past, you might just be surprised to find there is no such thing as an IKEA Murphy Bed. If you're shocked by this news, know that you're not alone. Many IKEA fans are puzzled as to why a company known for its revolutionary furniture designs does not offer a murphy bed. If you're in the market for an IKEA Murphy Bed, keep reading to learn helpful tips and tricks to help you purchase the best murphy bed.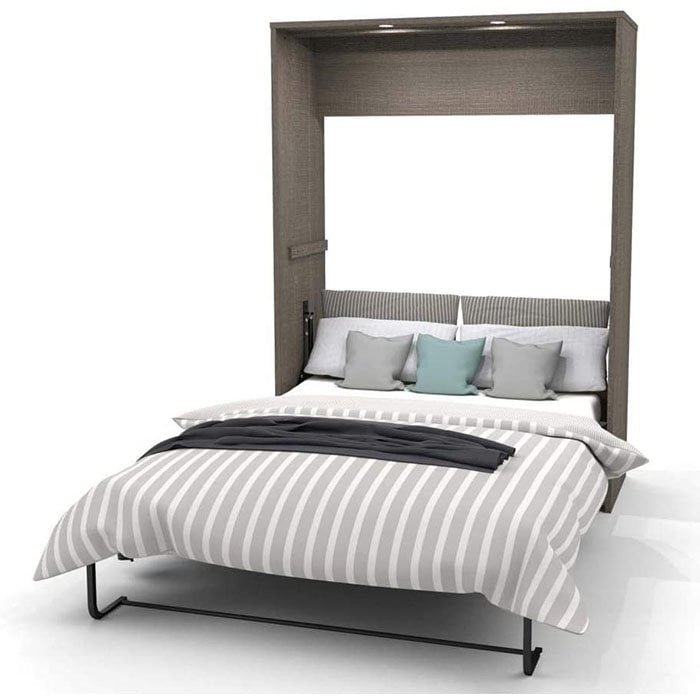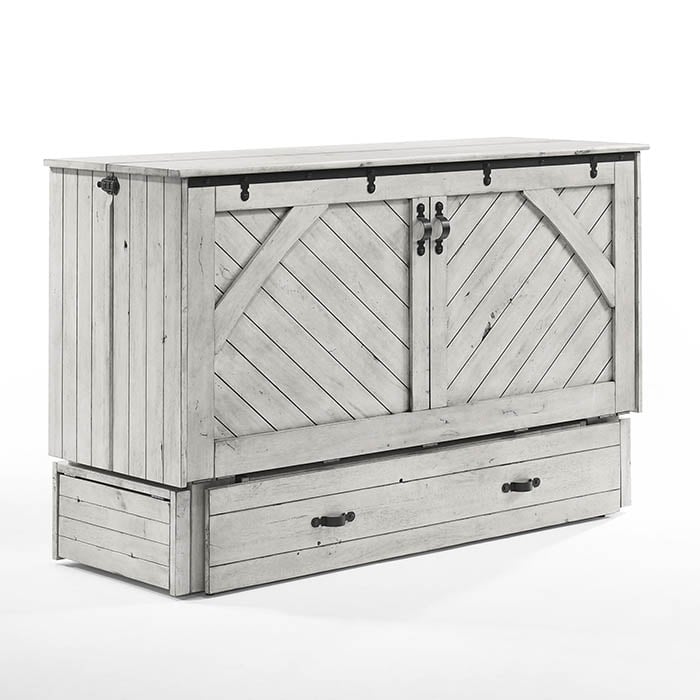 Why Doesn't IKEA Sell Murphy Beds?
As an innovator and top manufacturer in the affordable home furniture, it's shocking to learn that the "Murphy Bed IKEA" product does not actually exist. To understand why IKEA does not sell murphy beds, it's first important to understand the design of a murphy bed. A murphy bed, also known as a wall bed or a pull-down bed, attaches to the wall with anchoring mechanisms. The hardware used to attach the bed to the wall allows for the bed to easily fold up, allowing users to close up the bed when it is not in use.
The main reason IKEA does not manufacture a murphy bed is due to the mechanics. Unlike other types of furniture which do not fold up or move, murphy beds need heavy-duty construction in order to be safe for use. As IKEA seeks to maintain affordability for its do-it-yourself furniture, it's nearly impossible for them to construct a safe bed that fits within its target price range. The materials needed to construct a durable IKEA murphy bed would need to be much higher quality than what IKEA offers.
Murphy Bed IKEA Pricing
IKEA is known as a budget-friendly furniture manufacturer. With this in mind, the company is able to maintain its low prices by using affordable materials. Murphy beds require specific construction and hardware, such as durable bed springs in order to support the weight of the mattress and the wood. While it would be exciting to see this popular brand create a stunning murphy bed design, we don't anticipate seeing this any time soon. Safety and durability are of utmost importance when shopping for a murphy bed.
Cabinet Murphy Bed: An Affordable Alternative
While purchasing an IKEA Murphy Bed may not be in your future, there are plenty of other options for affordable murphy beds. If you're on a tight budget, it may be worthwhile to consider purchasing a cabinet murphy bed. Unlike a traditional murphy bed which attaches to the wall, a cabinet murphy bed is a free-standing piece of furniture. Not only is a cabinet murphy bed easier to set up because of its free-standing design, but it's also far more budget-friendly than a standard murphy wall bed.
Cabinet murphy beds are a great option for those looking for Murphy Beds IKEA to buy. Unlike a traditional wall bed that is anchored to the wall, a cabinet murphy bed allows you more flexibility to relocate it to another room or house/apartment. Plus, cabinet murphy beds come with the mattress included, helping to save you even more money.
Top 5 IKEA Murphy Bed Alternatives
Say goodbye to the idea of an IKEA Murphy Bed and say hello to these top 5 alternatives.
1. Night & Day Cabinet Beds
If you're considering purchasing a cabinet murphy bed instead of Murphy Beds IKEA, you'll want to check out Night & Day Cabinet Beds. Night & Day is a leader in high-quality cabinet beds, leading the furniture industry for the past 15 years. Night & Day offers a wide selection of cabinet beds in various finishes, styles, and sizes. If you're looking for the ultimate money-saving option, check out their Cabinet Murphy Bed Cube product line, available in four finishes. 
Night & Day even offers a murphy bed with desk option! Check out the videos below for in depth review of Night & Days most popular murphy beds and why they would make a great alternative to an IKEA murphy bed.
2. Arason Cabinet Beds
Arason Cabinet Beds are a great alternative to an IKEA Murphy Bed. Looking for a wide selection of finishes and sizes? Don't miss checking out these cabinet beds. Arason offers six different collections of functional beds, constructed with ultra-high-quality materials. Their most popular models are the Arason Essex Ash and the Madrid White. However, they have a full lineup of top notch beds in all different styles and colors.
3. Bestar Murphy Beds
If you wish to stick with a traditional murphy bed, Bestar Murphy Beds are a great alternative instead of the Murphy Beds IKEA does not offer. Bestar offers a great selection of durable and stylish murphy beds at reasonable prices. Bestar offers a variety of different options including a murphy bed with couch that offers an even more space-saving design.
4. Atlantic Murphy Beds
Atlantic Murphy Beds offer a great variety of styles and colors of cabinet murphy beds. If the sleek design of IKEA Murphy Beds was of interest, you'll love Atlantic's product lineup. Each of their cabinet murphy beds features sleek hardware and stylish designs that will blend into any room in your home.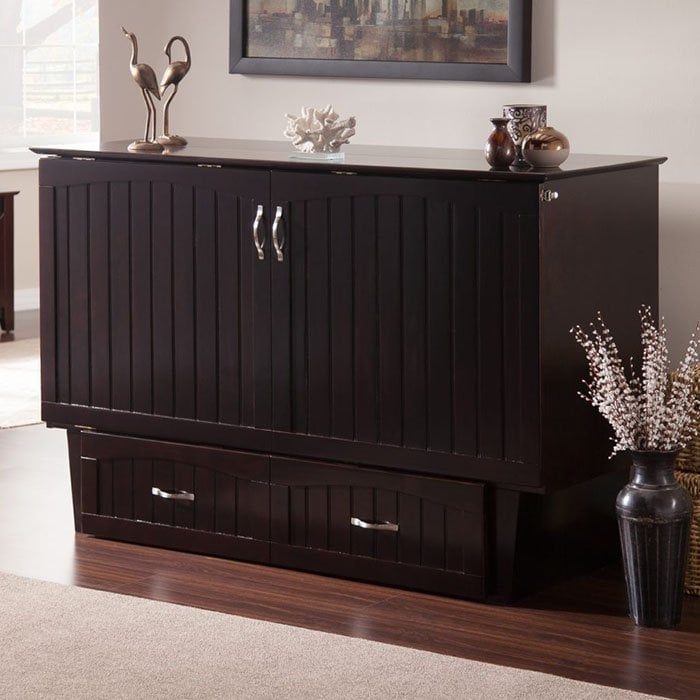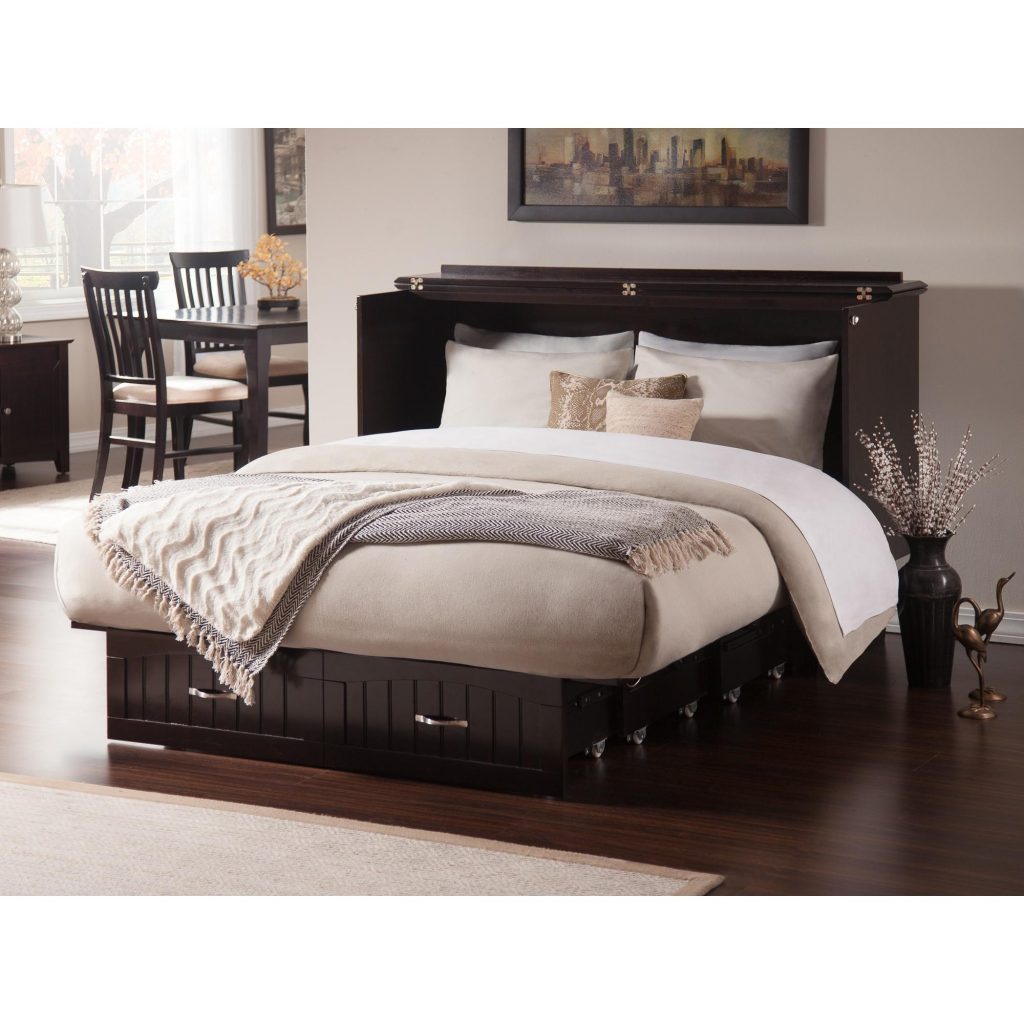 5. Pemberly Row Murphy Beds
If a cabinet murphy bed is not of interest, Pemberly Row Murphy Beds may meet your needs. Pemberly Row offers both queen and full murphy wall beds, including options with side storage towers and shelving. The modern and simplistic design of these beds is similar to IKEA furnishings.
Choosing an IKEA Murphy Bed Alternative
While it's surprising that IKEA does not offer murphy beds, it makes sense upon further exploration. Instead of murphy beds IKEA products, look to the 5 alternatives mentioned above. Throughout our years in the furniture business, we've explored many brands and designs of murphy beds and cabinet murphy beds. These top 5 manufacturers offer trustworthy and reliable functional beds that will both look and function optimally.
Got questions about choosing the best murphy bed or cabinet murphy bed? The Cabinet Murphy Bed team is here to help! Contact us at (800)-570-9515 or send us an email at cabinetbeds@yahoo.com with any questions or concerns. Happy shopping!