If you're short on space, functional furniture is the answer to saving space without compromising usability. Although Murphy beds have been a popular space-saver for many years, furniture manufacturers are finding new ways to make Murphy beds even more useful. The latest version, a Murphy bed desk, functions as both a bed and a workspace.
Whether you have a studio apartment, tight office space, or tiny guest room, a Murphy bed desk is the answer. With many options on the market, we've done the research for you to help our customers narrow down the best options.
Check out these five top Murphy beds with desk options for 2023 that you won't want to miss.
 1. Night and Day Siesta
Night and Day's newest Siesta Desk Bed is a Murphy bed with desk you won't want to miss. Made by one of the manufacturers of cabinet Murphy beds, this desk bed features a unique design unlike any other product on the market. 
Within just seconds, this free-standing piece converts from a standing heigh desk to a comfortable twin sized bed. When closed, the Night and Day Siesta Desk Bed takes up only 12.5 square feet of floor space, making it perfect for even the most compact of spaces.
The Night and Day Siesta Desk Bed is the go-to choice for anyone searching for a high-quality desk and bed combination piece that will last. Made from solid hardwood, this piece is also backed by Night & Day's top-tier 10-year limited warranty. The mattress is covered with a three-year limited warranty. When you purchase a Siesta Desk Bed, the comfortable 6-inch tri-fold memory foam mattress is included. This means you get a desk, a bed, and a mattress all in one!
Key Features
Another thing to love about the Night & Day Siesta Desk Bed is the free-standing design. Unlike a traditional murphy bed that requires bolting to the floor or walls, this piece of furniture requires no installation. Not only will you get it set up in your home quicker, but it's also easily relocatable. If you decide to move or want to move the piece to another room in your home, this feature will surely come in handy!
Night and Day has really thought of everything in their design of the Siesta Desk Bed. Each side of the cabinet feature book shelves, perfect for displaying décor or storing items. In addition, this murphy bed with desk features a built-in charging USB power module, making it easy to keep all of your devices charged. 
The Night & Day Siesta Bed is available in four stunning finishes, which include Dark Chocolate, Stonewash, Vintage White, and Walnut. With four wood finishes to choose from, you're bound to find a color that seamlessly blends into the style of any room.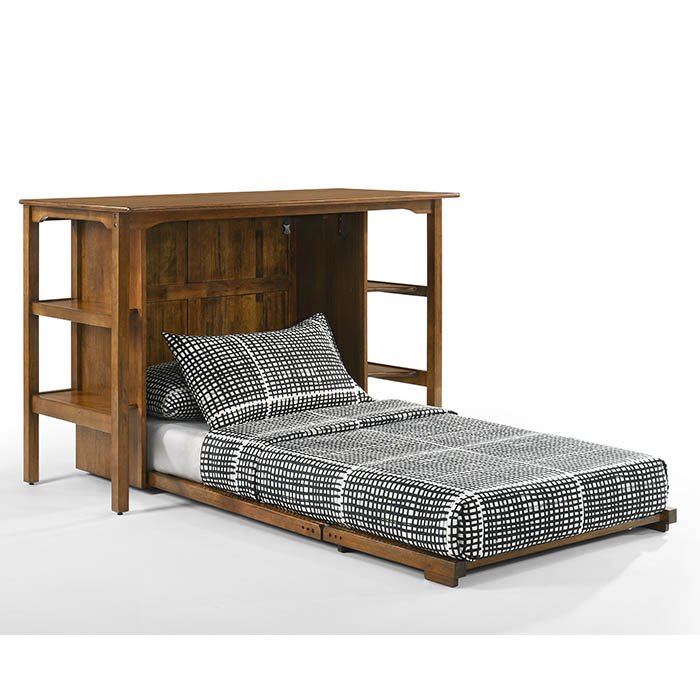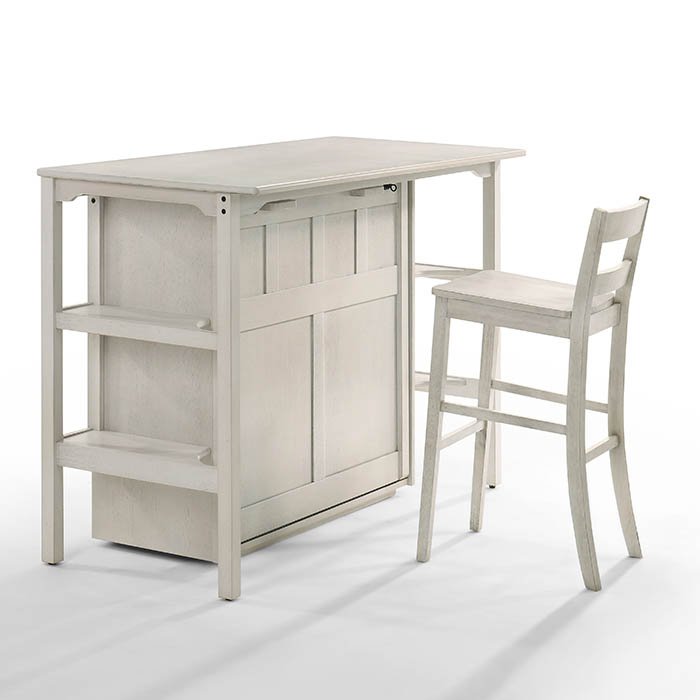 2. Hiddenbed Queen Murphy Bed with Desk
The Hiddenbed Queen Murphy Bed with Desk tops the charts as the most innovative murphy bed with desks. This smart storage solution quickly transforms from a standard queen-sized bed into a spacious workspace. 
What sets this Hidden muprhy bed apart from other murphy beds with desks on the market is the flexible options for either a vertical or horizontal orientation. This helps accommodate rooms that are either narrow or wide.
Available in both a sleek White or a modern Summerflame color, this murphy bed with desk is a great option for office spaces, small apartments, condos, dens, or even mobile homes. In addition to style, this top-rated murphy bed offers easy operation.
Each desk bed kit includes everything you need for installation, including hardware and detailed instructions. Either variation can accommodate a standard queen mattress that weighs up to 85 lbs.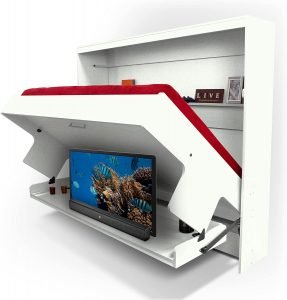 3. Bestar Lumina Queen Wall Bed with Desk
The Bestar Lumina Queen Wall Bed with Desk offers both durability and style. This modern queen Murphy bed with desk features a Euroslat mattress foundation that offers an exceptionally comfortable night's sleep. When closed, this bed easily transforms into a complete workspace with overhead LED lights. Whether you're working throughout the day or night, this bed does it all!
If you're looking for a Murphy bed that's easy to open and close, the Bestar Lumina is an excellent choice. The lifting mechanism design makes the Lumina lightweight and easy to fold up and down, making the transformation from bed to desk quick and painless.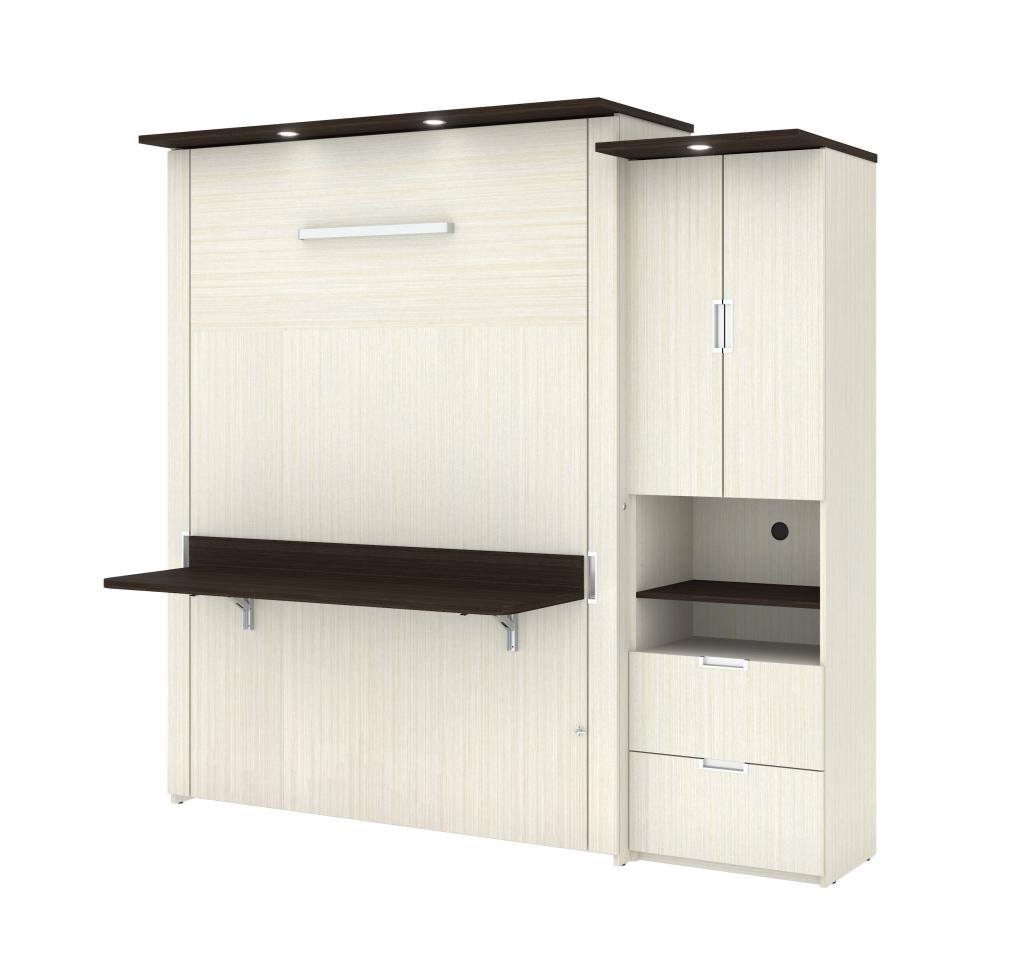 4. Bestar Orion Full Wall Bed
The Bestar Orion Full Murphy Bed with Desk functions differently than other similar products. Instead of a workspace that opens only when the murphy bed is closed, Orion's desk is located to the side. For shoppers looking to avoid opening and closing their murphy bed every day, this is a great option! Once your work day is complete, simply use the pneumatic cylinder mechanism to hide the easy-fold desk.
Not only does this murphy bed with desk include a bed and a desk, but it also includes storage shelving. Its innovative design is not all the Bestar Orion Full Murphy Bed with desk has to offer. Known as a leader in the furniture industry, Bestar offers an exceptional 5-year warranty to ensure your investment is protected.
5. AFI Northampton Murphy Bed Desk
Most Murphy beds with desks require anchoring to the wall. Shoppers looking for a more flexible Murphy bed desk option must check out the AFI Northampton Murphy Bed Desk. This Murphy bed requires no mounting, allowing it to stand freely in any room. Just like any piece of free-standing furniture, this bed can easily be moved when you move or relocated to another room.
The AFI Northampton bed offers a mid-century modern look, constructed of solid hardwood. The stunning walnut finish is unlike any other Murphy bed with desk on the market! In addition to a spacious desk to work from, this bed also features a built-in power source with a 6-food cord and 2 USB ports. You'll have everything you need right at your fingertips!
Choosing Murphy Beds with Desks
Each of these five Murphy beds easily transforms from a comfortable bed into a functional workspace within minutes. Whether you select a wall-mounted or free-standing option, a Murphy bed with desk is an investment that offers years of use.
Got questions about your select? The Cabinet Murphy Bed team can help you find the best option for your unique needs. Contact us at (800)-570-9515 or send us an email at cabinetbeds@yahoo.com with any questions or concerns.