Are you thinking about purchasing one of Night and Day's Poppy Cabinet Murphy Beds? Well, if so, you have come to the right place. In this article, I will give you everything you need to know about the Poppy Cabinet Bed to decide whether this is the right model for you.
Like Night and Day's other larger models, the Poppy collection functions the same exact way. This model also has all of the same features that make Night and Day beds so popular. Their easy-to-use design makes converting from a Cabinet to a Bed extremely easy. You will be able to have the bed ready to use in less than 30 seconds!
The Poppy Collection is Night and Day's newest line of cabinet beds and features four stylish finishes unlike any other cabinet beds on the market. Due to their unique design, the Poppy Murphy Beds have quickly become top sellers. Below, I will give a quick breakdown of the four different available finishes.

Night and Day Poppy White Bark Cabinet Bed
The White Bark Murphy Bed is my personal favorite of the collection. It has a light brown undertone, with a beautiful, whitewashed finish covering the entire bed. The whitewash over the brown helps to lighten the cabinet murphy bed without hiding the wood grain underneath.
The whitewash is not completely uniform and looks natural, therefore leaving the bed with an almost antique appearance. I can promise you that if this is the model you decide to purchase, you will not be disappointed with how amazing this bed looks in a room. I think this is the perfect addition to a home office and will be a key piece in the room.
Night and Day Brushed Driftwood Cabinet Bed Finish
The next finish in Night and Day's Poppy Collection is the Brushed Driftwood. As you can guess by the name, this finish looks like it was handcrafted out of driftwood that has washed up on the shore of the beach. It is a much lighter finish than the White Bark and has more of a natural wood feel.
Due to the lighter finish, the Brushed Driftwood Cabinet Bed shows even more of the grain of the wood, adding to the uniqueness of this piece. I love this finish in a beach house or a boho guest room setting. It is such a unique and elegant piece that it can fit into almost any style of home and looks absolutely amazing!
Night and Day Poppy Skye Cabinet Murphy Bed
The Poppy Skye Murphy Bed has the most unique finish in the collection. It has a whitewash over a sky-blue base that gives it a finish, unlike any furniture that I have ever seen before. Because the base of this cabinet bed is sky blue, every time I look at this piece, I immediately feel like I am at the beach.
I am not sure if I just equate the blue with the ocean, but everything about this finish has a coastal feel to it. I think that this finish is a standout piece in any home and would make a great TV stand or centerpiece for a beach house. Your guest will be astonished to find out that the bed converts into a queen-size bed.
Night and Day Poppy Blizzard Cabinet Bed
Last, but not least, is the Poppy Blizzard Cabinet Bed. Like the Poppy Skye and the White Bark, the Blizzard features whitewashed accents as well. The difference being that the whitewash is over a midnight black finish. The white-on-black contrast makes this piece stand out when in a room.
I think this finish would look great in a mountain house or home office. The Blizzard finish is a statement piece that is sure to grab the attention of guests.
Poppy Cabinet Bed Specifications
Solid Hardwood Construction – All Night and Day Cabinet Beds are made of Hevea Brasiliensis (Rubber Wood Trees). Rubber Wood is an environmentally friendly hardwood that is durable and scratch-resistant.
Limited 10 Year Warranty – Night and Day offers a limited 10-year warranty on all their beds.
Dimensions when Closed (As Cabinet) – 23.7" L x 63.5" W x 41" H
Dimensions when Open (As Bed) – 83.1" L x 63.5" W x 41" H

*Keep in mind that the bed will be wider than 63.5" with the fold-up trays out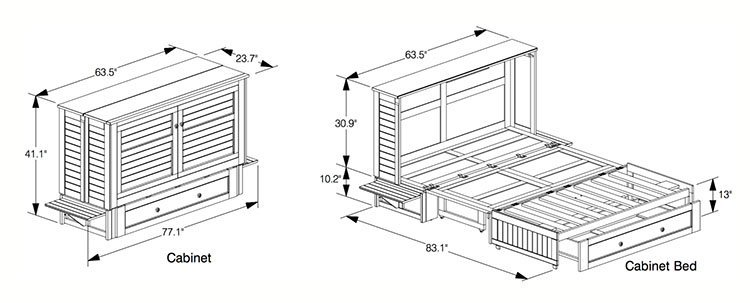 Night and Day's Poppy Cabinet Beds Key Features
The Poppy collection is Night and Day's highest-priced cabinet beds, so it is no surprise that they come with all the bells and whistles. With all their larger models, they have done an excellent job at engineering the bed to be practical and easy to use. Here are some of the main features that I think make the poppy cabinet bed one of the best on the market. 
Free Standing Roll Out Drawer
The free-standing drawer is great for storing pillows and sheets when the bed is not in use. Unlike most other manufactures, the under-drawer storage does not connect to the bed, because of this, you may use the drawer while the bed is in use. This means that if you have company over for a long weekend, they will be able to unpack their bags and not have to live out of their suitcases.
Another great feature that comes standard with the Poppy Cabinet Beds is the fold-up trays. Night and Day is one of the only cabinet murphy bed companies that have fold-up trays. I personally think they are an ingenious add-on to the Murphy beds. It gives a place for your guests to put their phones, wallets, and keys without needing to put them on the floor.
I have had people say, "well I can just have a side table", but if you are trying to make this cabinet bed blend into the room and not look like a bed, why would you have a side table next to a cabinet? That is why I think the fold-up trays are something that every cabinet bed company should be offering.
Built-in USB and Power Outlets
Let's face it, in today's day and age, everyone needs to be charging something. Smartphones, watches, and tablets, all require some type of charging these days. Night and Day has built in 2 power outlets and USB ports on the side of the cabinet bed that are only visible when the trays fold up. It is important to note that the USB and Power outlets are only on one side of the bed.
Unlike Night and Day's Cube Cabinet Bed, the Poppy Murphy Beds have a stationary top. This helps make life easier when converting the bed from cabinet to bed because you do not have to remove everything from the top. Due to the stationary top, this makes this model a great option for a TV stand or anything else that you otherwise would not want to move frequently.
The Negatives of the Poppy Cabinet Murphy Bed
Night and Day did a good job of trying to make this model have all the top features you would want in a Cabinet Bed. There is not a whole lot that I think they need to change, so these negatives are really nitpicking some of the fine details.
As stated above, this bed is on the more expensive side of cabinet beds. At around $2,200 (at the time of writing this article), this is an expensive piece of furniture. To be fair, it is a functional piece of furniture and does come with a memory foam mattress.
The other thing about this bed that would be nice to have is a UBS port on both sides. With a queen-size mattress, there will often be two sleeping in this bed. It would be nice for both guests to have a way to charge up.
Night and Day Cabinet Beds all come with the same 6 Inch Gel Infused Memory Foam Mattress. I have personally shown and slept on these mattresses and they supersede the expectations of a guest bed. Although a 6-inch mattress is not the thickest, the memory foam makes it feel like it could be any size. You will not feel like you are just sleeping on a wood plank in any way.
If you are going to be having long-term guests or using this yourself for a studio apartment, you could always throw a 2-3 inch mattress topper on the bed and it will be as great as a queen mattress money can buy.
Like all Cabinet Beds, the Poppy Murphy Bed ships via LTL Freight. Due to the size and weight of these beds, they cannot ship with UPS Ground or FedEx.
This means that the shipping company will deliver the bed with an 18-wheeler. The bed will be on a large pallet. If you live somewhere where an 18-wheeler will not be able to access, I recommend contacting the company you are purchasing from beforehand to make sure delivery will be possible.
The bed itself will arrive in two boxes. The smaller box will container the mattress and the larger box will have the entire cabinet bed inside. The weight of the larger box can be quite overwhelming at first, so I have some helpful tips on how to make moving this box much more manageable.
First, you are going to want to get the box off the pallet.
You will then want to cut the box open and remove the packaging so that you can open the cabinet.
Inside the cabinet, you find the base and the fold-up trays. By removing these, you will cut the weight in half making each piece weigh under 100 lbs. and much easier to move.
Bonus Tip – If you are taking the bed upstairs or around tight corners and need to break the bed down even further. Where the top cabinet section connects when folded down, you will find seven hinges hold the two parts together. You can unscrew one side to separate the sections in half making it super easy to move. They are not glued so they are super easy to remove and reattach.
Assembly of the Poppy Cabinet Bed
The Night and Day Poppy Murphy Cabinet Bed assembles the same way as all of their larger models. The bed ships with the base and top cabinet fully assembled. There are only two requirements for you, the customer, to assemble the bed. The first is to attach the base to the cabinet. The second step is screwing on the hardware and fold up trays. Assembly all together will only take about 30 minutes.
Night and Day has a nice video showing how to assemble their larger cabinet beds. Although it does seem kind of crazy, the easiest way to attach the base to the cabinet is to flip the cabinet completely upside down. Make sure you do this on carpet or set down a blanket for protection.
Once you are finished up with assembling the bed, you will want to open the mattress. I always recommend opening the cabinet bed and set the mattress on top when opening. Give the mattress at least 6-8 hours to fully expand. There is no reason for alarm if one of the sections pops up right away, while another section takes its good old time. After about 8 hours, all three sections will fully expand. This process could take upwards of 24 hours.
My Final Thoughts on The Bed
Out of the cabinet murphy beds I have worked with, the Poppy Collection is one of the best available on the market. The functionality, quality, and ease of use make this cabinet bed a great buy. If you are trying to have a standout piece of furniture, I would highly recommend this product.