Atlantic Furniture has been in the furniture business for over 30 years and they were one of the pioneers in the cabinet bed industry. They have a handful of different models and today we are reviewing their Nantucket Murphy Bed.
The Nantucket Murphy Bed Chest feature a cottage style front paneling that looks great in any home style.
One of the main attributes that sets Atlantic Furniture's Murphy Beds apart from other manufactures is that they offer all of their models in a twin size. Because of this, there isn't any room that won't have room for one of their cabinet beds.
Like other cabinet murphy bed manufacturers, Atlantic makes their beds with Para Rubber Wood. This is a hard wood that is known to be Eco-Friendly as it is only harvested after it has been used to produce other resources. Rubber wood is a very popular option for making furniture because it is not only environmentally friendly, but it is also durable and scratch resistant.
The Nantucket Murphy Bed comes in three unique finishes. They offer this model in their classic White, Espresso as well as their very own Atlantic Grey.
Below I'll give a quick rundown of each of the different color options they offer.
Nantucket White Murphy Bed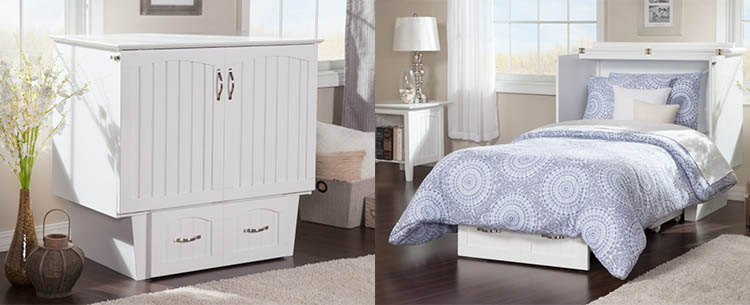 The white finish is Atlantic's most classic model. When you think of cottage style slates, you immediately think of bright whites, hardwood floors and farm sinks. Or maybe that's just me, but this piece is exactly what I envision when picturing a farmhouse style setup.
This piece would look great in any room from the family room to the guestroom. The vibrant white finish provides a beautiful contrast against darker hardwood flooring.
Nantucket Espresso Murphy Bed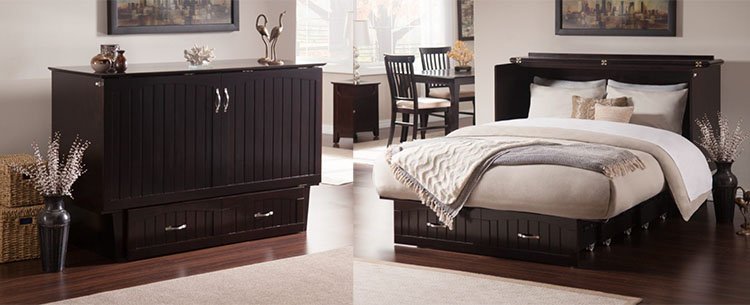 The Nantucket Espresso is a rich brown finish. Its darker completion resembles that or a freshly brewed cup of espresso.
Depending on where you plan to put the bed, it can appear to be different colors. In a room with plenty of natural lighting, the true brown tones and reddish hues will show through. If placed in a room with limited light, the cabinet bed can appear to be much darker or even look black.
The bed's stainless steel hardwood contrasts very nicely to give it mix of farmhouse and modern. You really can't go wrong with an espresso finish.
Nantucket Atlantic Grey Murphy Bed
The Atlantic Grey is Atlantic's newest addition to their color line. The grey with silver handwear is definitely the most modern looking finish that they have to offer.
The cool tones of the grey finish will match nicely with a variety of different home styles.
The grey finish has quickly become one of the most popular options. Grey paints and finishes are definitely one of the hottest trends of today.
6 Inch Tri-Fold Mattress Included – 5 Inches of high-density Memory Foam / 1 inch of Ultra Comfort Memory Foam
Ships in 3 Boxes – Easy to move and assemble
Weight – Twin: 250 pounds – Queen: 370 pounds
Weight Capacity – 500 pounds
Included USB Charging Station
Twin Dimensions – 42 5/8″W x 24 3/8″D x 39″H; Length When Open: 76″
Queen Dimensions – 63 5/8″W x 24 3/8″D x 41″H; Length When Open: 82 1/2″
The Nantucket Cabinet bed operates very similarly to another popular brand, Arason Enterprise.
The base drawer pulls all the way out with a series on supports that are all connected by sliders. From there, you flip up the top, unlatch the sides and flip down the front panel.
Like all cabinet beds, the tri-fold mattress will be folded up inside of the top cabinet. Atlantic's opening and closing system is extremely easy to do and all of the parts are light weight and easy to manage for people of all ages.
Below you can watch their video on how to open and close the bed!
What I Like About The Nantucket Murphy Bed
The Nantucket Murphy Bed does a lot of things right. Atlantic made their beds super simple to use, stylish and at a great price point. With price in mind, they still added in some excellent features that you won't find with other manufactures. Below, I'll go over some of the top attributes that Atlantic Murphy Beds have to offer.
Available In Twin Or Queen Size
One of the major perks of these cabinet beds is that you can buy them in either a twin or a queen. A lot of other manufactures only offer their beds in a queen size.
I find this to be strange seeing that they are meant for saving space and small spaces. Not everyone always has room for a queen size bed. The Nantucket Murphy Bed allows you to have a cabinet bed no matter how limited your room size.
The USB and outlets are a nice addition to the cabinet bed. It allows company to charge their phones and other devises while they sleep.
Atlantic strategically placed the USB and Outlets under the overhang of the top cabinet. Because they placed them there, they will not be overly visible when folded away as a cabinet.
The bed has a built-in power cord that comes out the back side and plugs into an outlet. You can place the bed in front of an outlet and still have full access to power.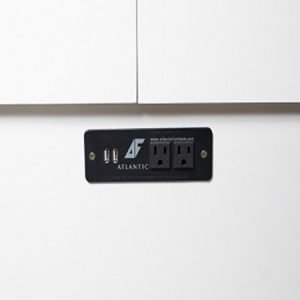 Pull Handles on the Mattress
The built-in pull handles on the mattress are unique to Atlantic. These are a very subtle addition, but it's things like this that make the bed even easier to use. The pull handles help to easily fold the mattress back up when putting the bed away.
What I Don't Like About the Nantucket Cabinet Murphy Bed
With all cabinet bed manufacturers, there are things I like that they do and things that I don't like. I personally have worked with a lot of beds so I know which features are useful and which ones could be down better.
My "cons" of each bed are just small things to think about when decide if you want to purchase this bed. For most people that have never used other cabinet beds, a lot of these negatives are things you would probably never even think about.
My goal is to provide as much information I can so you know exactly what to expect when the product arrives.
Below are the few things that I think Atlantic could do better with their beds.
Flip Top Goes All the Way Over
The Atlantic Nantucket Cabinet Bed has a two-part top. The front section flips up and the back section is stationary. Unlike some of the other manufactures out there, they have nothing to hold that front piece in place so it has to flip all the way over and lay on top of the back section. Because of this, it makes leaving decorations or a TV on top a little more difficult.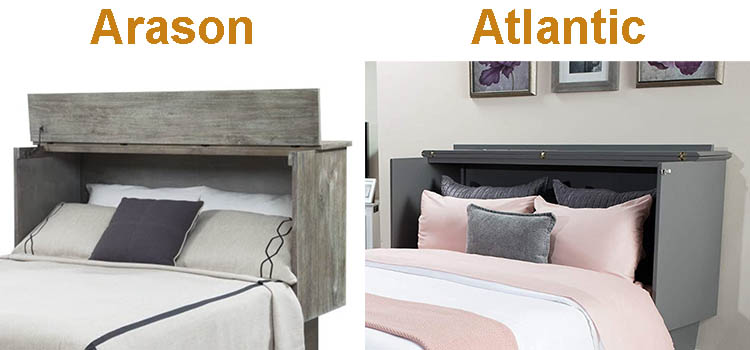 In the picture above, you can see how the Atlantic top flips all the way over while the Arason top is held in place by a hinge. By having the hinge, anything on top of the Arason Cabinet Bed will not be obstructed when being used as a bed.  
Hinges on the outside of cabinet
The front panel of the Nantucket Murphy Bed is held up by hinges on both sides. By all means, it does not look back or unaesthetically pleasing. The reason I list this as a negative is because it hinders the look of being a cabinet. These beds are meant to be hide away beds and I feel like the hinges take away from the discreteness of the cabinet bed.
There are other manufactures out there that put the hinges on the inside of the cabinet and I feel that this helps to make the make the bed look more like a cabinet when folded up.
The Underneath drawer is not free standing
The underneath drawer on the Atlantic cabinet beds is connected to the telescopic panels that roll out to make up the base platform for the bed. The drawer can be used for storing pillows and sheets when folded up as a cabinet, but when folded out as a bed, it is underneath the platform making it hard to use.
A better option would be the Night and Day Cabinet Beds because the drawer is completely free standing and can be used when folded up and folded out.
My Final Thoughts on the Nantucket Cabinet Bed
Atlantic's Nantucket Cabinet Murphy Bed is a great cost-effective option. The mattress is very comfortable and will be a huge upgrade when adding an extra sleeping space in your home. There are some things that could be improved when it comes to functionality, but overall, it is an excellent bed.
If you are looking to purchase this bed a home office or to revamp your guest room, I think you will be very pleased with this cabinet murphy bed.